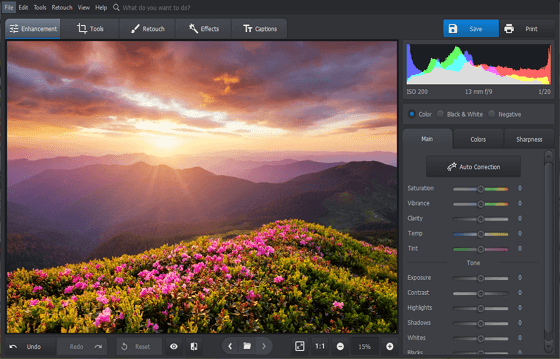 Great Photoshop Alternative You've Been Looking For
One-click portrait retouch and face sculpt
Smart auto enhancement & color correction
150+ filters: vintage, HDR, Color splash, etc.
Easy background change and image overlay
Download free
For Windows 11, 10, 8, 7
How to Improve Your Pic with This Photoshop Alternative
Step 1.
Use content-aware auto correction to fix brightness, contrast, and color balance of your image.
Step 2.
Erase any objects that spoil your shot: blemishes from a portrait, antennas from a landscape, etc.
Step 3.
Style your improved picture with an artistic filter from the built-in library of over a hundred effects.
Why Would You Need an Alternative to Photoshop?
Let's face it - Photoshop is not for everyone. It takes countless hours just to get a grasp of this software's workflow, but at the end of the day you only end up using just a handful of tools from its vast library. And Photoshop is not cheap, either. Would you be willing to pay over $200 a year just to have your vacation photos fixed and your portrait retouched? Hardly.
So what should you do, if you are neither a pro photographer or designer, but just want to have your pictures enhanced? Well, search for the best alternative to Photoshop, of course. For software that is a lot easier and cheaper than the Adobe juggernaut but has all the essential tools as well as some cool features. In fact, we have already found such Photoshop equivalent for you. It's called PhotoWorks.
Why Is PhotoWorks the Best Software Like Photoshop
This intelligent photo editing software possesses all the key tools you need to fix your lackluster photo and turn it into a pro-looking shot. But unlike most programs like Photoshop, PhotoWorks is powered by a smart AI. This content-aware technology can automatically enhance your picture based on its genre. Curious what this photo editor is capable of? Have a look at what you can do with this easy Adobe Photoshop alternative: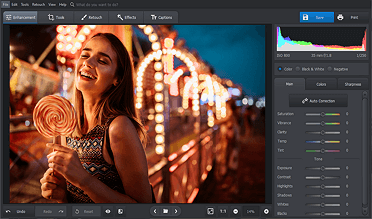 Erase and replace the photo background effortlessly
Overlay images & cliparts to create a photo montage
Change the color palette using stunning 3D LUT profiles
Retouch portrait with an array of one-click effects
Sculpt facial features, slim the face with a slider drags
Get rid of unwanted objects in the background
Stylize your images with 150+ beautiful filters
Ready to fix your ruined photos? Download PhotoWorks for free today!
Download free
For Windows 11, 10, 8, 7
Photoshop VS PhotoWorks: How Big Is the Difference?
Does PhotoWorks have what it takes to rival the Adobe giant? Let's compare the two softwares to see if PhotoWorks is a worthy Photoshop replacement.
Features
Adobe
Photoshop
Photo
Works
Free trial
7 days credit card number required
5 days NO credit card required
License type
subscription
subscription or life-time
Price
$239.88 annually
from $19.25
User-friendly interface
Non-destructive editing
user-controlled
automatic
RAW support
through plugins
Portrait auto retouch
Curves
Tone Mapping
Color grading
Noise reduction
Healing brush
Clone stamp
Background change
Image overlay
Built-in effects
100+
180+
Stickers
Text options
Want to try this all-in-one photo editor for Windows yourself? Download it now!
Download free
For Windows 11, 10, 8, 7
Get Better Acquainted with PhotoWorks
Want some proof to PhotoWorks' immense capabilities? And to see how clear and user-friendly its interface is? Then have a look at this intelligent photo editor in action.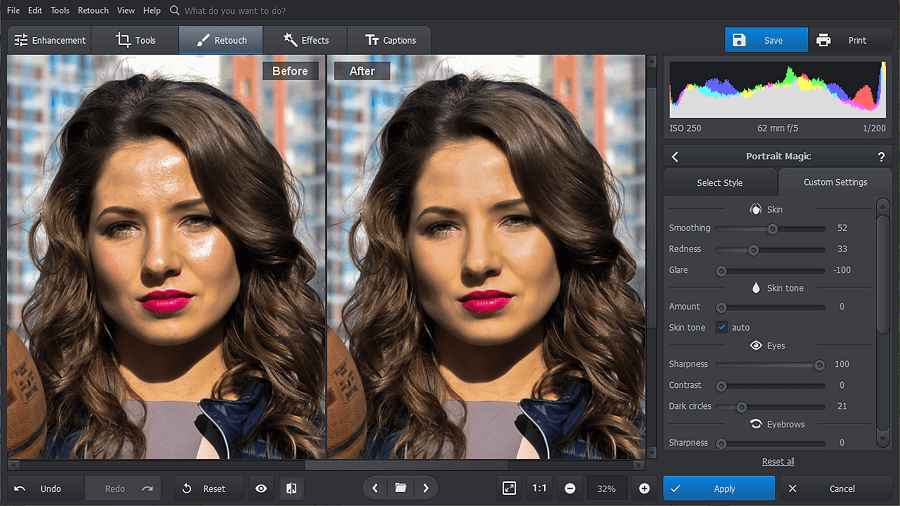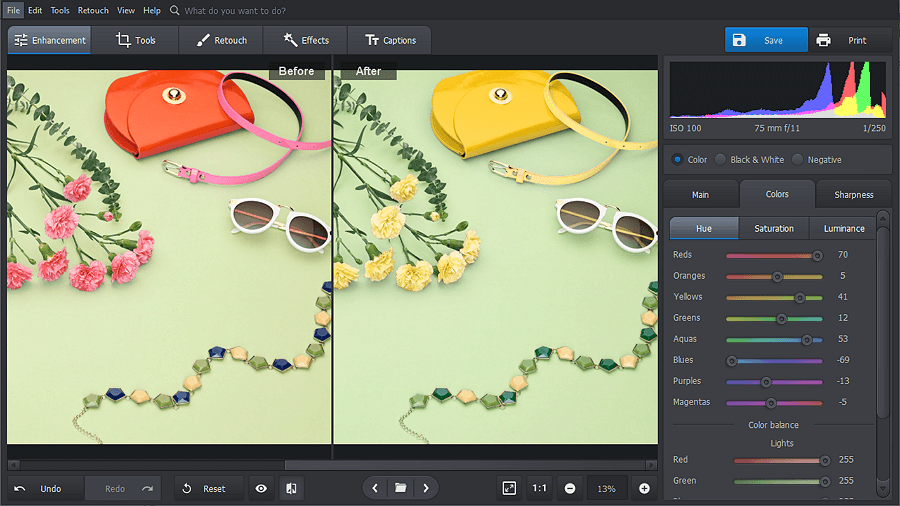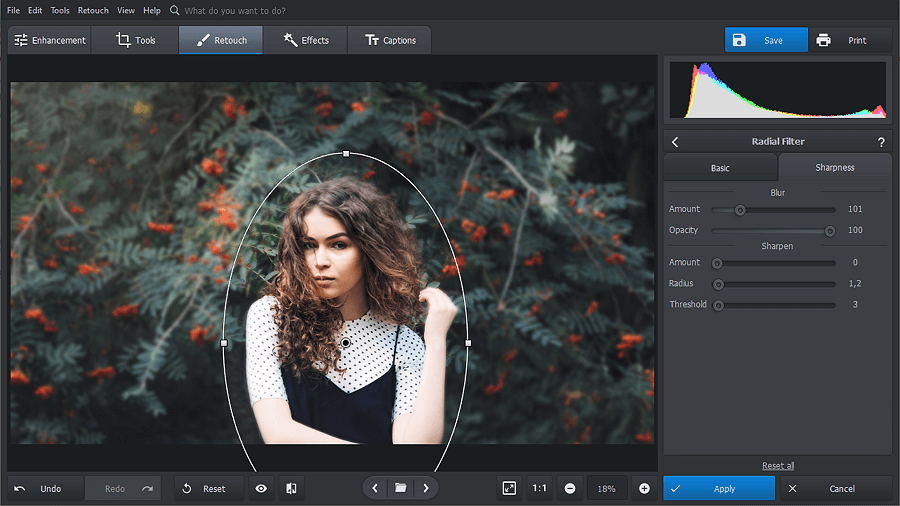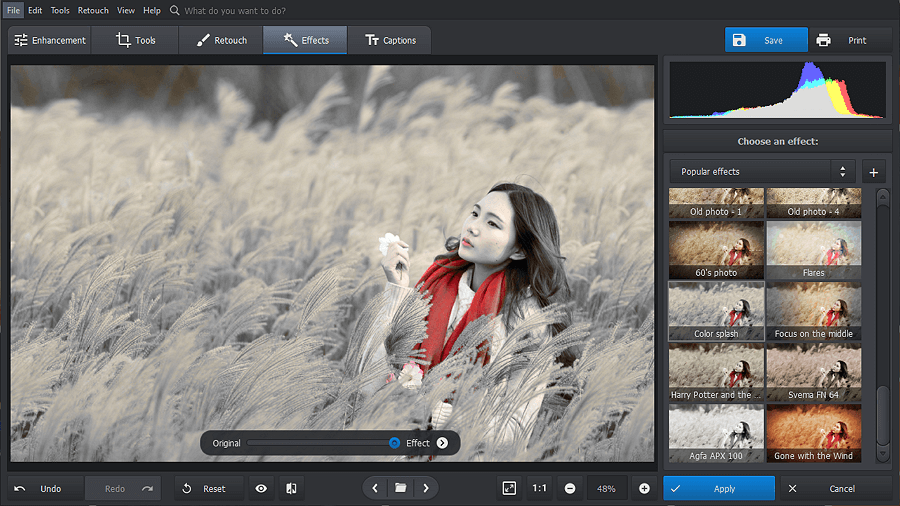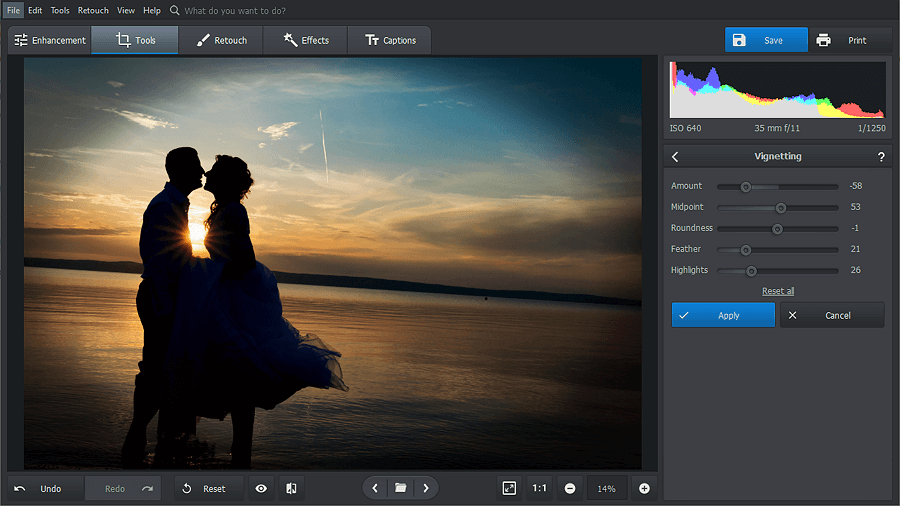 See What the Media Say About PhotoWorks
"I would say I have achieved about 70-80% of what I would do within Photoshop. However, Photoworks just turned a multi-hour edit into a handful of mouse clicks. That's quite impressive."
petapixel.com
"What's surprising to me is that in a piece of software designed for people trying to take things a bit more seriously, it has a lot of advanced features, [...]" ©
fstoppers.com
"I was very impressed to find that PhotoWorks detected not only individual faces but also facial features like lips and eyes. I was able to add color to one subject's lips without affecting anyone else in the image!" ©
thephoblographer.com
"PhotoWorks does offer non-destructive editing and a load of effective one-touch edits on top. If there's any software that can rival PhotoWorks' precise auto-retouching capabilities, I'm unaware of it. Face-recognition technology is taken to the next level." ©
digital-photography-school.com